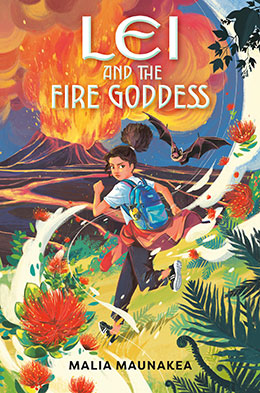 Lei and the Fire God­dess by Malia Mau­nakea is a rare gem in kid lit: an epic com­ing-of-age sto­ry writ­ten by a Native Hawai­ian author fea­tur­ing Native Hawai­ian characters.
The sto­ry intro­duces us to twelve year old Lei, with all the joy and snark­i­ness and inse­cu­ri­ty that are part of grow­ing up. It didn't take long for me to get into the sto­ry. From the very moment she steps off that air­plane at Hilo air­port, Lei is a ful­ly devel­oped, ful­ly like­able character.
So are the sec­ondary char­ac­ters, espe­cial­ly Tūtū, ʻIlikea, Moʻo, Kama­puaʻa, and the for­mi­da­ble Pele. I won't spoil it for you by reveal­ing too much. Just know that the char­ac­ters of Hawai­ian leg­ends come alive in the author's vivid sto­ry­telling and are inte­gral to Lei's grow­ing aware­ness and maturity.
There is so much I love about this book.
I loved Lei's char­ac­ter arc, watch­ing her grow, fac­ing her fears, devis­ing solu­tions, and fac­ing the con­se­quences. The excit­ing major scenes — between Lei and Kama­puaʻa, between Pele and Poliʻahu, the holua sled race — grab the read­er and donʻt let go.
But even the qui­et moments, such as Lei vow­ing not to share the water­fall on social media and lat­er real­iz­ing why tele­scopes donʻt belong on Mau­nakea, speak vol­umes, espe­cial­ly to ʻōi­wi readers.
I love how the lan­guage is geared to today's audi­ence with­out being dis­mis­sive of the mem­o­ries and upbring­ing of the old­er read­ers the sto­ry might appeal to. The ʻōle­lo Hawaiʻi is not a trope but a real sto­ry­telling device. For exam­ple, Tūtūʻs "close the mouth" line in an ear­ly scene is such a Hawai­ian way of teach­ing and learning.
I loved what felt like inside jokes but are real­ly evi­dence of the author's authen­tic voice: KTA, the tin roof, Iz's song, li hing mui snacks, pid­gin. I love that the first hula that comes to Lei's mind is the one we all learn as kids, Kahuli Aku. And I laughed out loud at the chap­ter titled "Ma-ke Die Dead."
Now the ele­phant in the room. At first I was super ner­vous about Pele being a main char­ac­ter. Our kūpuna teach us to respect and revere her. There will always be tra­di­tion­al­ists who feel the Pele sto­ry should nev­er be retold in a mod­ern voice.
Yet, for me, more than any­thing, I love how cre­ative the sto­ry is. It's respect­ful and authen­tic and adds to the Pele and Kama­puaʻa canon for today's kids. Pele tru­ly sounds like the god­dess I grew up hear­ing about. That she becomes Lei's fren­e­my is edgy and feels right.
Kids' books by lived experience/own voic­es authors are so impor­tant. I am Native Hawai­ian and grew up in the 1960s. There were no books – not one! – where the char­ac­ters looked like me, did the things I did as a kid, ate the foods I ate, or used the pid­gin I spoke. All kids deserve to see them­selves in chil­dren's lit.
This is why books like Lei and the Fire God­dess are so impor­tant. It's a beau­ti­ful­ly writ­ten, rol­lick­ing excit­ing-scary-fun­ny sto­ry that kids every­where will love. For all these rea­sons, LEI is a must-read.
Lei and the Fire God­dess
By Malia Mau­nakea
Pen­guin Ran­dom House
2023
ISBN 9780593522035
Sug­gest­ed for ages 8 – 12
Maha­lo to Sier­ra Pregosin at Pen­guin Ran­dom House for access to the galley!
Learn about author Malia Mau­nakea in our talk-sto­ry inter­view. To look up the def­i­n­i­tions of the Hawai­ian terms used in this post, please vis­it Wehewehe.org