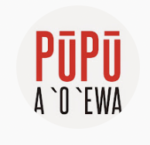 The best years of my pro­fes­sion­al life were as a pro­fes­sor at Uni­ver­si­ty of Hawai'i — Lee­ward Com­mu­ni­ty Col­lege. I taught lin­guis­tics and busi­ness writ­ing cours­es to thou­sands of stu­dents, who impact­ed me in such pro­found ways. I was so lucky to have a job I loved.
One of the activ­i­ties Iʻm most proud of is found­ing and pub­lish­ing Pūpū A 'O 'Ewa Native Hawai­ian Writ­ing and Arts. The web­site has a dif­fer­ent look and mis­sion now, but dur­ing my time, everyone—students, fac­ul­ty, staff, and com­mu­ni­ty members—was invit­ed to sub­mit, regard­less of eth­nic­i­ty, and the only require­ment was that the work be some­how relat­ed to Native Hawai­ian cul­ture. From 2011–2016 we pub­lished over 100 videos, music, pho­tos, and sto­ries. Those works are archived at Pūpū, but I think my blog is a good place to fea­ture some of them again. The works and their cre­ators deserve to be seen and appreciated.
One of my favorite videos is I am a Farmer, a thought-pro­vok­ing and visu­al­ly stun­ning video cre­at­ed by Ke Ala ʻIke Schol­ar Sheila Arasato and based on an orig­i­nal work per­formed by her sis­ter, the tal­ent­ed Uʻi­lani Kumuhone. We first pub­lished this video on April 10, 2016, I asked Sheila why she revis­it­ed her sis­terʻs poem. Her reply? "There was more sto­ry to tell: who you are in this ʻāi­na, and what are you doing to make it a bet­ter place?" Excel­lent ques­tions. Maha­lo nui, Sheila and Uʻilani.
Pho­to cred­it: Sheila Arasato