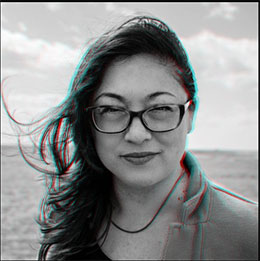 Cia­ra Leinaʻala Lacy is a tal­ent­ed writer-pro­duc­er-direc­tor whose pas­sion is telling sto­ries influ­enced by her Native Hawai­ian heritage.
Her doc­u­men­tary-style con­tent has shown at Sun­dance and Berli­nale and on stream­ing plat­forms includ­ing Net­flix, PBS, ABC, and Al Jazeera. The inau­gur­al Sun­dance Insti­tute Mer­a­ta Mita Fel­low, Cia­raʻs work has been sup­port­ed by Tribeca, The Princess Grace Foun­da­tion, the MacArthur Foun­da­tion, and Pacif­ic Islanders in Communication.
Her award-win­ning fil­mog­ra­phy includes Is That Black Enough for You? (2022), This is the Way We Rise (2021), Out of State (2018), We Are Still Here (2018), and 11/8/16 (2017), and as well as oth­er com­mer­cial projects.
And as if all of that was­n't impres­sive enough, Cia­ra is hum­ble and gra­cious. She recent­ly carved out some time out of her busy sched­ule to talk sto­ry with us.
Click the stills below to see trail­ers of the films.
Alo­ha e Cia­ra! For those who haven't met you, could you please tell us a lit­tle about yourself?
I'm Hawai­ian, Chi­nese, Cau­casian born and raised in Cen­tral Oahu. I love to make things and col­lab­o­rate with teams, and have spent the major­i­ty of my career craft­ing non-fic­tion work, whether for TV or Film, about the Kana­ka Maoli experience.
Where did you grow up? What high school did you grad from?
I grew up in Mililani, and attend­ed Kame­hame­ha High School, Kapālama.
Me, too! Go, War­riors! Who is your biggest supporter?
This was a tough one! I've been real­ly for­tu­nate to have a TON of sup­port. My par­ents have always been huge sup­port­ers of any­thing I want­ed to do, no mat­ter how crazy, and my hus­band has been as well. I have to give thanks to all my friends who endure watch­ing cuts of my work or read­ing drafts because Iʻm a huge believ­er in the pow­er of feed­back to help make work better.
Why did you become a film­mak­er? Did you always know you could cre­ate art?
I became a film­mak­er, because I am crazy? I did­n't always know I could make art, but I have always loved the idea of mak­ing things. I absolute­ly love project based work, and I do love a lit­tle adven­ture in life…so film­mak­ing has giv­en me both! Itʻs tak­en me a long time to feel com­fort­able call­ing myself an artist because Iʻm untrained and kind of learn by doing, but I think Iʻm get­ting there!
What do you enjoy most about film­mak­ing? What are some of your great­est challenges?
I love the process, even if it can keep me up at night or make me want to tear my hair out at times! And I love to cre­ate col­lab­o­ra­tive spaces, work­ing with oth­ers who are like mind­ed and ded­i­cat­ed to craft­ing the strongest pos­si­ble of work.
I tend to be more of an emo­tion­al, less lin­ear thinker, so I wor­ry that my work is mak­ing sense. I often poke hard at it for this rea­son, which sounds very minor but is a real­ly big deal for me. How can peo­ple emo­tion­al­ly con­nect with or learn from your work, if they donʻt under­stand the basics of whatʻs going on?
And you nev­er know what peo­ple take away from a film. Some­times you think an idea will mean one thing, and peo­ple take away anoth­er. So Iʻm con­stant­ly dig­ging into feed­back to refine the mes­sag­ing and clar­i­ty of what I am making.
What are your hopes and dreams for the year and beyond in terms of your artis­tic career and what you would like to see pub­lished in the future?
My hopes for the next year are very tran­si­tion­al and, hope­ful­ly, very trans­for­ma­tive! Iʻm hop­ing to expand what I do beyond doc­u­men­tary work to include screen­writ­ing and direct­ing nar­ra­tive con­tent. So Iʻm work­ing a screen­play, my first ani­mat­ed short for kids, and two nar­ra­tive shorts. Iʻm hop­ing to do even more, not to sound too greedy, but we shall see what I can accomplish!
That sounds excit­ing! Do you have any expe­ri­ences as a woman of col­or film­mak­er that you might share with our read­ers? What would you like to see change in the indus­try regard­ing the accep­tance of BIPOC creators?
I am con­stant­ly sur­prised by mis­con­cep­tions and pre­con­ceived notions peo­ple have about Kana­ka Maoli, our sto­ries, and our world­view. This impacts how the work is received, whether peo­ple are in a space to embrace the sto­ry­telling or not.
What advice would you give an aspir­ing filmmaker?
Play! Give your­self time to learn, grow, and real­ly find what you like. Devel­op­ing a sense of per­son­al taste is real­ly impor­tant. You donʻt have to cre­ate work for every­one. Just know what you like and focus on that. Your audi­ence will come!
I love that advice. Where do you get your inspirations?
Every­where! Friends and fam­i­ly, the news, art, radio, going for walks. Inspi­ra­tion can find you any place you're ready to see it.
Can you share a bit about what you're work­ing on next?
I'm work­ing on a few things, but per­haps most fun is my first nar­ra­tive piece, a short ani­mat­ed sto­ry for kids. It's been a real­ly big chal­lenge – I'm learn­ing a ton – and am excit­ed to see what shakes out from it all!
And now a few niele (noisy) ques­tions, if you'd like to answer. Who is your hero?
My hero is Twin­kle Borge of Wai'anae. She is a kana­ka dri­ven to sup­port com­mu­ni­ty needs, espe­cial­ly for kei­ki and has been able to make tan­gi­ble change for her peo­ple. This is a woman that can move moun­tains, and she inspires me.
Oh, yes, she's amaz­ing. What is your proud­est accomplishment?
Meet­ing my husband.
What advice would you give your younger self?
Nev­er be afraid to try. You can be creative!
If you could choose to do any­thing for a day, what would that be?
Float in space! How cool would that be?
Very cool. This was so fun, Cia­ra! Maha­lo nui loa for shar­ing your man­a'o with us. We can't wait to see more from you!
To learn more about Cia­ra Lacy and her films, vis­it her at CiaraLacy.com, on Insta­gram @ciaraleilacy, and on Twit­ter @ciaraleilacy. Stills and photo cour­tesy of Cia­ra Lacy.