Our ongo­ing series on Native Hawai­ian and local Hawaiʻi writ­ers con­tin­ues this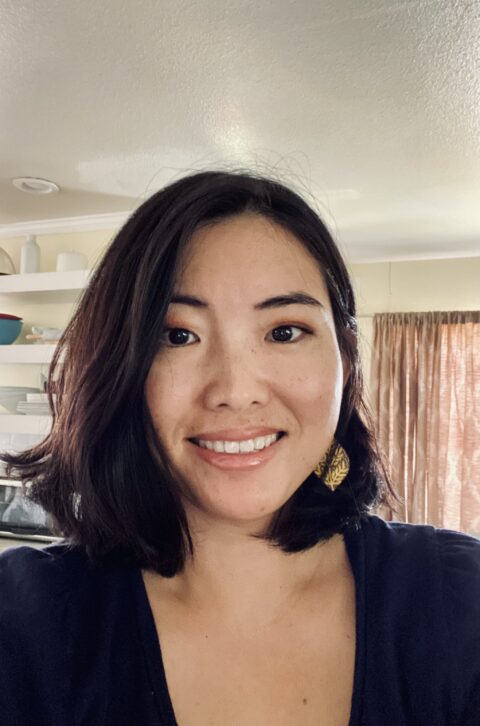 week with my friend, author Bran­di-Ann Uye­mu­ra. Writ­ing coach, blog­ger, coach and author, Bran­di does it all. Her arti­cles and essays inspire hope, courage and com­pas­sion. An Asian Amer­i­can who grew up in Hawaiʻi, Bran­di brings a much need­ed authen­tic voice, not just for Asian kids in Hawaiʻi but for all kids, everywhere.
Hi, Bran­di. Thank you for allow­ing me to fea­ture you. For those who haven't met you, could you please tell us a lit­tle about yourself?
Hi! I'm Bran­di, a writer and mom of two young boys. I grew up in Hon­olu­lu, Hawaii and went to Aiea High School.
Go Na Aliʻi! Who is your biggest supporter?
My hus­band. He's been with me from the very begin­ning when I was get­ting my master's in coun­sel­ing psy­chol­o­gy and veered off course to be a free­lance writer. The lat­ter and mar­ry­ing him were the best deci­sions I made (besides hav­ing kids)!
Why did you become a writer? What inspired you to write for children?
I think I've always been a writer. I just didn't know you could do it for a liv­ing. It's fun­ny I coach cre­ative women and I often say that the thing you say you would nev­er do, is often the thing you want to do most. When I got my BA in Eng­lish from the Uni­ver­si­ty of Ore­gon, I could have gone the children's writer route, but I nev­er thought I would write for kids. I even interned at Skip­ping Stones, a mul­ti­cul­tur­al children's magazine.
One of my ear­li­est mem­o­ries in school was hav­ing to cre­ate a pic­ture book. I think it was about rats or some­thing lol. It was a piv­otal mem­o­ry because I remem­ber think­ing: wow you mean I can write a book?
What do you enjoy most about writ­ing for kids? What are some of your great­est chal­lenges in writ­ing for children?
I have fond mem­o­ries of read­ing books in my youth. It was that one moment when I felt that vis­cer­al expe­ri­ence of being in the sto­ry. I think every read­er remem­bers read­ing Char­lie and the Choco­late Fac­to­ry and want­i­ng to eat choco­late or get­ting chick­en skin from Toni Morrison's Beloved. I've almost nev­er been able to recap­ture that feel­ing as an adult. When I write for kids, I get that mag­i­cal expe­ri­ence of feel­ing like any­thing is possible.
Oh, yes, I know what you mean. What are your hopes and dreams for the year and beyond in terms of your writ­ing career and what you would like to see pub­lished in the future?
I hope to get more of my pic­ture books on sub­mis­sion and my mid­dle grade mys­tery in sub­mis­sion shape. I have oth­er fic­tion nov­els that I've start­ed, anoth­er mid­dle grade, and two women's fic­tion nov­els. Once my kids are in school again, I hope to real­ly get deep into those.
I think I will always be a writer. Fic­tion is new to me and yet, it feels like com­ing home There's some­thing fresh and deli­cious about writ­ing fic­tion that I haven't expe­ri­ence writ­ing nonfiction.
There are not a lot of sto­ries for local kids by local writ­ers. Why do you think that is? What do you think we can do to change that?
I don't know exact­ly why that is. And you and I have had con­ver­sa­tions about that. It's so impor­tant to have these unique cul­tur­al expe­ri­ences on the book­shelves. I think we need to sup­port oth­er local and indige­nous writ­ers with sto­ries to tell. I think what you're doing: writ­ing about your own cul­ture, work­ing to get them pub­lished and fea­tur­ing local writ­ers and authors on your web­site are piv­otal ways to change the landscape.
I agree! Do you have a web­site? Are you on social media? Do social media play a role for you as an author? Do your read­ers con­tact you? What do they say?
I have two web­sites: The Inspir­ing Bee and Brandi-AnnUyemura.com. The Inspir­ing Bee was cre­at­ed decades ago and is all about inspir­ing peo­ple to fol­low their pur­pose. The oth­er web­site is a place for writ­ers. Both have helped me get jobs and con­nect with writ­ers in the decade or so that I've had them so I am grate­ful for both.
I'm on Twit­ter, Face­book and Insta­gram all with @TheInspiringBee. I met my first free­lance writer friends over a decade ago through my blog and Twit­ter. I've also met IRL mom friends and coach­ing clients sole­ly through Insta­gram. Right now, I'm pre­pub­lished, so I'm using social media as more of a way to con­nect and find inspi­ra­tion from oth­er creative's platforms.
What advice do you have for aspir­ing writers?
If I were to speak to an aspir­ing writer, I would tell them their words mat­ter. There is always room in the col­lec­tive for their voice and that any­thing they don't know, they can learn. The main thing is to keep going. The only way to become the writer you dream of, is to write. Write despite fear. Write despite inse­cu­ri­ty. Write despite what any­one else says. And don't show your work to any­one in the ear­ly process. Give your­self the free­dom to express and put every­thing down on paper. You can always go back to revise.
Can you share a bit of your cur­rent work?
I wrote a pic­ture book about the local Japan­ese Bon Dance here in Hawaii. Orig­i­nal­ly, it was writ­ten in third per­son and was basi­cal­ly a doc­u­men­tary on a real scene at a Bon Dance lol. I had no idea what I was doing. It has had mul­ti­ple iter­a­tions since then and is now writ­ten in first person.
What beliefs are your sto­ries challenging?
I think cul­ture, courage and being and accept­ing your­self. It's a sto­ry about con­nect­ing with your ancestors.
What is your inspi­ra­tion for your stories?
My own life as a mom rais­ing two boys for sure. And my family's life grow­ing up in a sug­ar plan­ta­tion in Kauai. It's a mix of every­thing I've read, researched and lived.
Which char­ac­ters do you relate with eas­i­ly? Why?
I can relate to my main char­ac­ter being afraid to dance in front of every­one. I real­ly grap­pled with this sto­ry for years until I had an amaz­ing men­tor, Andrea Wang from PBChat. She helped me to get to the heart of my story.
That's cool. Are you work­ing on a new writ­ing project? Can you share a bit about your next book?
I am revis­ing a mid­dle grade mys­tery. It's about six years in the mak­ing. What moti­vat­ed me was receiv­ing a SCBWI men­tor­ship and High­lights schol­ar­ship. These came right when I was about to throw in the tow­el. It's a sto­ry that blends my own past expe­ri­ences work­ing at a choco­late store, as a pri­vate inves­ti­ga­tor and mid­dle school ther­a­pist. It's a choco­late mys­tery about an Asian Amer­i­can girl grow­ing up in an almost all white com­mu­ni­ty where she befriends her for­mer neme­sis and bul­ly, and learns that we're all a mix of bit­ter and sweet. None of us immune to the evils of the world.
That sounds intrigu­ing Bran­di. Maha­lo for shar­ing your man­aʻo and best wish­es always! To con­tact Bran­di-Ann Uye­mu­ra, vis­it her on social media or The Inspir­ing Bee and Brandi-AnnUyemura.com.