Wel­come to the first in a new series of inter­views with Native Hawai­ian and local Hawaiʻi writers!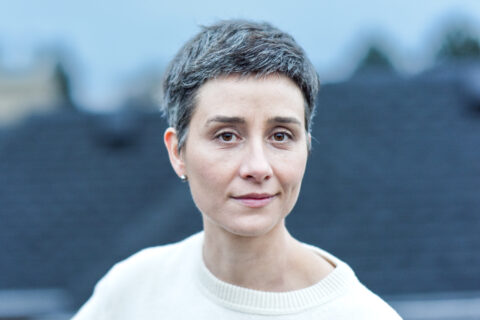 I am very pleased to intro­duce award-win­ning author Ili­ma Loomis. She has an exten­sive back­ground not only in writ­ing for chil­dren but also in jour­nal­ism, con­tent mar­ket­ing, sci­ence and tech­nol­o­gy. Her goal is to help her read­ers to make sense of com­pli­cat­ed subjects.
Alo­ha, Ili­ma. For those who haven't met you, could you please tell us a lit­tle about yourself?
Alo­ha! My name is Ili­ma Loomis, and I'm the author of chil­dren's books includ­ing 'Ohana Means Fam­i­ly and Eclipse Chas­er: Sci­ence in the Moon's Shad­ow. Along with writ­ing books for young read­ers, I also work as a sci­ence writer! I inter­view sci­en­tists and help explain their research and dis­cov­er­ies for a gen­er­al audi­ence. I start­ed my career as a com­mu­ni­ty jour­nal­ist, work­ing as a reporter for The Maui News. While I was born and lived most of my life in Hawaii, I recent­ly moved to Van­cou­ver, Canada.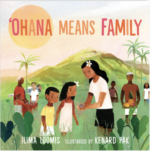 Where did you grow up? What high school did you grad from?
I was born and raised in Kailua, Oahu, and I grad­u­at­ed from Iolani School in Hon­olu­lu. Go Raiders!
Who is your biggest supporter?
My daugh­ter is 15, and she recent­ly told me that she was proud of what I do and she thought I was cool. That real­ly meant so much to me! I'm grate­ful to be her mom. She inspires me.
Thatʻs very cool. Why did you become a writer? What inspired you to write for children?
I actu­al­ly start­ed out as a jour­nal­ist. I've always writ­ten non­fic­tion because I'm inspired by the real world. My first chil­dren's book was actu­al­ly a spin-off from a non­fic­tion book I wrote about pan­io­lo and ranch­ing in Hawaii. After I fin­ished the book for adults, I thought it would also make a good sub­ject for kids, so I pitched and wrote a pic­ture book. I loved the expe­ri­ence of writ­ing for kids and was hooked.
What do you enjoy most about writ­ing for kids? What are some of your great­est chal­lenges in writ­ing for children?
I love the chal­lenge of tak­ing a com­plex sub­ject and fig­ur­ing out how to dis­till it into a sto­ry that kids will under­stand and relate to or find inter­est­ing. It real­ly forces you as a writer to think about what's most impor­tant and what you most want to say. It's such a short for­mat, there's no room for any ram­bling or digres­sion. Even though I'm writ­ing non­fic­tion, I still have to think cre­ative­ly about how to say what I want to say, and how to turn these cold facts into a sto­ry that makes the read­er feel emo­tion. It makes me a bet­ter writer.
There are not a lot of sto­ries for or by Native Hawai­ians and Pacif­ic Islanders. Why do you think that is? What do you think we can do the change that?
First, I want to note that I'm not Native Hawai­ian; I'm from a mul­ti-gen­er­a­tional kama'aina fam­i­ly. Hawaiʻi is my home, and it meant so much to me to be able to share some­thing about Hawaiʻi's cul­ture with this book. I also want to cred­it and thank Hōkūao Pel­le­gri­no for review­ing and adding his cul­tur­al exper­tise to the book.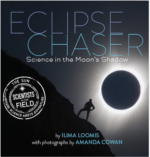 I absolute­ly believe that there is a huge need for more books for and by Native Hawai­ians and Pacif­ic Islanders. It's grat­i­fy­ing to see that chil­dren's pub­lish­ing has embraced diver­si­ty in the last few years and is start­ing to catch up with the long over­looked need for sto­ries that reflect the diverse world in which we live. That push for diver­si­ty needs to include indige­nous voic­es, in par­tic­u­lar Native Hawai­ians and Pacif­ic Islanders.
There's a lot I don't under­stand about how pub­lish­ing works as an indus­try, but I do think that orga­ni­za­tions like SCBWI (Soci­ety of Chil­drenʻs Book Writ­ers and Illus­tra­tors) can sup­port this move­ment by con­tin­u­ing to work on being more diverse and inclu­sive in their mem­ber­ship and pro­grams for up-and-com­ing writ­ers and illus­tra­tors. I think the SCBWI Hawaiʻi Chap­ter is doing a great job on that and I hope they con­tin­ue to push even hard­er toward those goals. And of course as read­ers the best thing we can do to show pub­lish­ers that there's demand for books by and for Native Hawai­ians and Pacif­ic Islanders is to buy and sup­port the books that are already out there. I think it's espe­cial­ly impor­tant to sup­port local Hawaii pub­lish­ers, because they're the ones lead­ing the way in shar­ing Native Hawai­ian and Pacif­ic Islander sto­ries, and that's where many new writ­ers and illus­tra­tors get their start. Local pub­lish­ers are an impor­tant resource for read­ers and writ­ers in Hawaii, and we need to sup­port them!
Are you on social media? Do social media play a role for you as an author? Do your read­ers con­tact you? What do they say?
I do some social media (where else would I find an out­let for all the pho­tos I take of my dog??). Writ­ing can be a lone­ly activ­i­ty, so I found that social media was a great way to con­nect with oth­er writ­ers and build com­mu­ni­ty. I do some­times hear from read­ers, and I absolute­ly love it when I see peo­ple share that they enjoyed my book. It's espe­cial­ly cool when I see the book shared by librar­i­ans or teach­ers! As an author though, I try to turn off the social media for a while so I can focus on my writ­ing with­out distractions.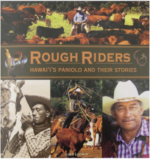 What advice do you have for aspir­ing writers?
There's no sub­sti­tute for just writ­ing a lot and putting it out there for peo­ple to read. I actu­al­ly believe it's more impor­tant to write a lot than to write well. You learn some­thing every time your work gets released into the world, so take every oppor­tu­ni­ty you can. Some writ­ers will hang on to their work, pol­ish­ing and pol­ish­ing, because it's nev­er good enough. Per­fec­tion­ism is a killer. Just let it go.
Can you share a bit of your cur­rent work?
I'm work­ing on an idea about pol­li­na­tor gar­dens! I'm inspired by small-scale conservation.
Which of your books did you have the most fun writ­ing? Which were the most challenging?
I actu­al­ly had an incred­i­ble expe­ri­ence writ­ing Eclipse Chas­er. I had the oppor­tu­ni­ty to trav­el to the 2017 total solar eclipse with Uni­ver­si­ty of Hawaii solar physi­cist Sha­dia Hab­bal and her team. We camped in the Ore­gon desert, and she allowed me to doc­u­ment her expe­di­tion for the book. It was a once-in-a-life­time experience!
What beliefs are your books challenging?
Inter­est­ing ques­tion! I don't think I set out to chal­lenge peo­ple's beliefs, but in 'Ohana Means Fam­i­ly I want­ed read­ers to reflect on how food con­nects us with each oth­er, with nature, and with the world.
What's your expe­ri­ence with pub­lish­ing your books?
My first two books, Ka'im­i's First Round-Up and Rough Rid­ers: Hawai­i's Pan­io­lo and Their Sto­ries were pub­lished with a local pub­lish­er (Island Her­itage). It was a great expe­ri­ence, and I am real­ly grate­ful Island Her­itage took a chance on my books and gave me the oppor­tu­ni­ty to work on those projects as a young writer. I actu­al­ly orig­i­nal­ly wrote 'Ohana Means Fam­i­ly with the inten­tion of pub­lish­ing it local­ly as well. But when I con­nect­ed with my agent,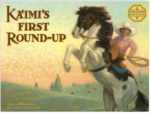 Kel­ly Son­nack, she thought there would be inter­est out­side of Hawaii. She end­ed up sell­ing it to Neal Porter, an acclaimed chil­dren's book edi­tor. It was an incred­i­ble oppor­tu­ni­ty to be able to work with Neal on my first pic­ture book out­side of Hawaii, and I think he did an amaz­ing job with the book. I was espe­cial­ly excit­ed that he select­ed illus­tra­tor Kenard Pak to cre­ate the art, and I think the results were absolute­ly gorgeous.
Where do you get ideas for your books?
I'm inspired by the nat­ur­al world and how humans inter­act with nature!
Which char­ac­ters do you relate with eas­i­ly? Why?
I'm a qui­et, intro­spec­tive per­son, so I usu­al­ly relate to qui­et, intro­spec­tive characters.
Can you share a bit about your next book?
As I men­tioned, I'm work­ing about a book about pol­li­na­tor gar­dens. For inspi­ra­tion, I plant­ed some native wild­flow­ers in a planter on my deck. Now that I live in the Pacif­ic North­west there are so many plants and ani­mals that are new to me. I love watch­ing the bees buzzing around the flow­ers, and I'm espe­cial­ly excit­ed every time hum­ming­birds come for a vis­it! They're so tiny and cute! I love the idea that humans can inter­act with nature and sup­port con­ser­va­tion even if they live in small spaces or in the mid­dle of a big city.
Maha­lo nui, Ili­ma, and best wish­es for your con­tin­ued suc­cess! To con­tact Ili­ma Loomis and learn more about her books, vis­it her web­site, Ilimaloomis.com.