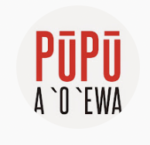 Native Hawai­ians look to our kūpuna — our elders — to help us find our path­ways through life. They guide us by their spir­i­tu­al wis­dom through per­son­al, famil­ial or com­mu­ni­ty dif­fi­cul­ties. Kūpuna are the source of expe­ri­ence, knowl­edge, guid­ance, strength and inspi­ra­tion to the next gen­er­a­tions, a rich resource to con­tribute to the bet­ter­ment of the Hawai­ian people.
Kahaulahi­lahi Vegas is a flu­ent Hawai­ian lan­guage speak­er whose fam­i­ly is from both Molokaʻi and Oʻahu. After grad­u­at­ing from Lee­ward Com­mu­ni­ty Col­lege and the Uni­ver­si­ty of Hawaiʻi-West Oʻahu, Lahi is pur­su­ing her PhD degree in Pub­lic Health at the Uni­ver­si­ty of Hawaiʻi-Mānoa. Her goal is to help the Native Hawai­ian community.
Lahi Vegas also loves to com­pose. To hon­or her beloved kūpuna, she com­posed her mele alo­ha, Ka Maile, which we pub­lished at Pūpū A ʻO ʻEwa in 2015. She cred­its her grand­par­ents for pro­vid­ing the foun­da­tion of her lifeʻs path. Lahi says she will always be inspired by her kūpuna: He alo­ha pau ʻole — a love with­out end.
Watch our inter­view with Lahi in both ʻōle­lo Hawaiʻi and ʻōle­lo haole. Maha­lo nui, Lahi.