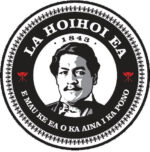 July 31 is Lā Hoʻi Hoʻi ʻEa in Hawaiʻi! Estab­lished by Kauikeauoli (King Kame­hame­ha III), Sov­er­eign­ty Restora­tion Day is a nation­al hol­i­day that com­mem­o­rates the return in 1843 of Hawaiʻi to the right­ful Hawai­ian gov­ern­ment after it was seized by the Unit­ed King­dom. He declared, "Ua mau ke ʻea o ka ʻāi­na i ka pono," the life of the land is per­pet­u­at­ed in right­eous­ness. E mau a mau!
Many Native Hawai­ians rec­og­nize this day — and not July 4 — as our inde­pen­dence day.
From 1843 to 1893, Lā Hoʻi Hoʻi ʻEa was observed through­out Hawaiʻi nei with games, speech­es, and much fes­tiv­i­ty. But in 1893 when the Hawai­ian king­dom was over­throw in a coup dʻe­tat by Amer­i­can busi­ness­men, our day of inde­pen­dence was banned. As this yearʻs co-orga­niz­er, Imaikalani Win­ches­ter, writes, "like our moth­er tongue, our nation­al mem­o­ry was torn from us."("Ea Mai Ka Lahui," Ka Wai Ola O Oha.)
Then in 1986, in an effort led by activist Dr. Keku­ni Blais­dell, Lā Hoʻi Hoʻi ʻEa was brought back, start­ing with a gath­er­ing at Thomas Square in Hon­olu­lu. The Hon­olu­lu Adver­tis­er announced the event in a small para­graph buried in the news­pa­per. The event, the arti­cle promised, was a two-hour potluck pic­nic, a flag-rais­ing cer­e­mo­ny, and talk sto­ry sessions.
Today we cel­e­brate through­out the pae ʻāi­na and across the globe, and our kūpuna and the painful truth of our col­lec­tive history.
Maha­lo nui to all of those who con­tin­ue to share their alo­ha and their man­aʻo with us all.
For a list of this yearʻs events, vis­it the Lā Hoʻi Hoʻi Face­book page.