Maha­lo ke Akua! After a long career teach­ing writ­ing (which I real­ly loved), I thrilled beyond words that my debut pic­ture book, KAHOʻOLAWE, has been offi­cial­ly announced at Pub­lish­erʻs Week­ly!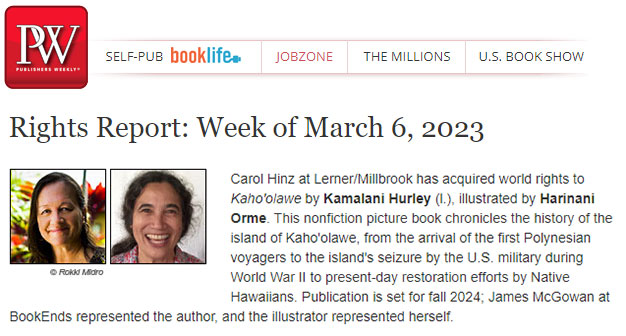 Kahoʻolawe is a sto­ry of loss and era­sure, of sac­ri­fice and ded­i­ca­tion, and, ulti­mate­ly, of restora­tion and resilience. Writ­ten and illus­trat­ed by Native Hawai­ians Kamalani Hur­ley and Hari­nani Orme, this chil­drenʻs pic­ture book is the sto­ry of alo­ha ʻāi­na — a deep love of the land — and explores what hap­pened to Kahoʻo­lawe and how she is a bea­con of hope for the Native Hawai­ian peo­ple and for peo­ple every­where who fight against social and envi­ron­men­tal injustice.
Maha­lo nui …
to the lead­ers of the Pro­tect Kaho'o­lawe 'Ohana for their exper­tise and sup­port of this project. Their ded­i­ca­tion to Kahoʻo­lawe and to the Hawai­ian peo­ple con­tin­ues to inspire.
to edi­tor and pub­lish­er, Car­ol Hinz, whose exper­tise and patience we are count­ing on to get the book into the world.
to my agent James McGowan, who always knew this sto­ry need­ed to be told.
image cred­it: Vic­ki Palmquist — Wind­ing Oak